University Advancement consists of the following offices:
John Blohm, Vice President for University Advancement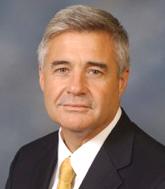 John Blohm became vice president for University Advancement in January 2015.
John spent his college years in Michigan, and his professional career of institutional advancement spans universities across the South. Prior to his tenure at University of New Haven, he was Vice President for Development and Alumni Relations at Virginia Commonwealth University. He had leadership roles at the University of Arkansas, Emory University, the University of Alabama at Birmingham, and the University of Florida.
John is an accomplished advancement professional with extensive knowledge of development. He works with operations to maximize fundraising and enhance alumni relations, communications and marketing across the University.
Contact:
jib@louisiana.edu
(337) 482-0911
Martha Marse, Executive Assistant

Martha coordinates all administrative functions for the office of the Vice President for University Advancement. She serves as a liaison between the Vice President and all employees within the University Advancement area. She is a graduate of UL Lafayette, having earned a degree in Office Administration. She has been employed on campus for 23 years. She is married to Michael Marse, '76, and they have three daughters, all of whom are also UL Lafayette graduates.  
Contact:
mmarse@louisiana.edu
(337) 482-0911